GENERAL PHYSIOTHERAPY
General Physiotherapy addresses concerns of the whole body, including muscles, joints, and nerves. You may have developed issues after an injury, surgery, with repetitive work, or just out of the blue. Read below for the conditions we can help with.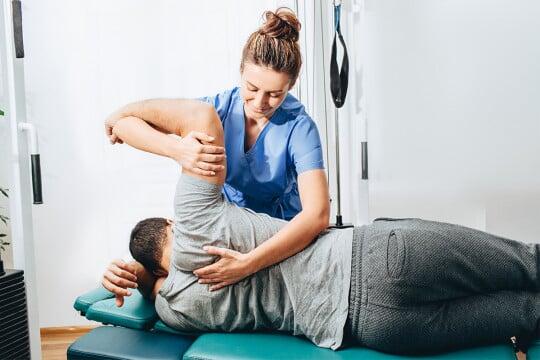 What We Treat

Joint Pain: Ankles, knees, hips, sacroiliac (SI), wrist, elbow, shoulders

Muscular Pain: muscle spasm, strains, tears, tension, tightness

Ligament and Tendon Injuries: ankle/knee sprains, ACL, MCL, meniscus

Specific areas: Neck, low back, abdominal region
*Please note that some of your concerns might be related to the pelvic floor or vestibular system. Your care provider will screen with a thorough medical history during the appointment and rest ensured that you will be given the appropriate treatment and care.
Full List of Conditions:
Arthritis

Bursitis

Back And Neck Pain

Temporomandibular Joint Dysfunction (TMJD-Jaw Pain)

Carpal Tunnel Syndrome

Disc Herniations

Headaches Including Migraine

Hip, Knee, And Ankle Pain

Neuromusculoskeletal Condition

Plantar Fasciitis

Postural Dysfunction And Related Pain

Pre/Post-Natal Related Pain

Pre/Post-Surgical Rehabilitation

Repetitive Strain Injuries

Rotator Cuff Injuries

Sciatica

Shin Splints

Shoulder, Elbow, And Wrist Pain

Spinal Instability

Spinal Stenosis

Sports And Running Injuries

Stress-Related Muscle Tension

Tennis/Golfer's Elbow

Whiplash And Motor Vehicle Accident Injuries

Nerve Entrapments (and related numbness or tingling)